Global Gourmet by Sensiohome American Waffle Maker Iron Machine 700W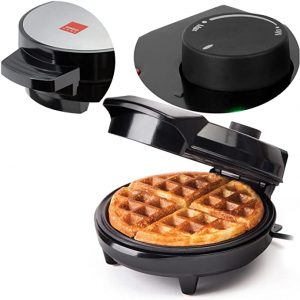 An American style Waffle Maker from a British company, manufacturing since 1946. 
The integrated extra deep cooking plates with non-stick coating cook waffles to perfection, just like in America. You decide, how you like your waffles! Simply adjust your preferred temperature, wait until the ready light indicator comes on, and GO. The convenient light indicator shows when the waffle machine has reached the ideal temperature for starting to cook traditional waffles.
For easy storage, Global Gourmet by SENSIOHome includes a cord-wrap to store the waffle maker in the best and safest way. The machine has 700W power. Stainless Steel Cooking Plates and comes with some recipe suggestions.